A tragic fire at a transgender gathering in East Delhi, India killed dozens, Al Jazeera reports: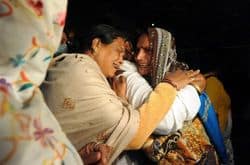 At least 15 people have been killed by a fire that swept through a venue in New Delhi where nearly 1,000 members of the marginalised eunuch community had gathered for a national convention, police said.
The fire broke out around 7pm (13:30 GMT) on Sunday and quickly spread through the community hall in the Nandnagary neighborhood of east Delhi, where the meeting was taking place, as well as in tents erected in the grounds of the venue…
…In India, the term "eunuch" is mostly used to refer to cross-dressers and pre- and post-operative transsexuals.
India's estimated 700,000 eunuchs are severely marginalised and often rely on begging and the sex trade for income as they are often unable to gets jobs.
The fire occurred on the International Transgender Day of Remembrance. Those gathered were there to honor deceased friends. The Delhi government is being criticized for not having a fire safety system in place at the venue.
Watch a local report on the deadly fire, AFTER THE JUMP…