Two tracks produced by The Messengers and reported to be demos for Madonna's upcoming album turned up online over the weekend.
Listen to "Love on Fire" and "Dirty Liar" AFTER THE JUMP…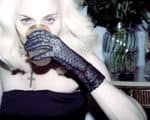 Meanwhile, Madonnarama reports:
"Madonna and Benny Benassi are again working together for the upcoming 2012 album and we at Madonnarama can reveal the title of the track: "Girls Gone Wild". The song has already been recorded and is, for sure, going to be a huge dance track and possibly be released as one of the singles from the forthcoming album."