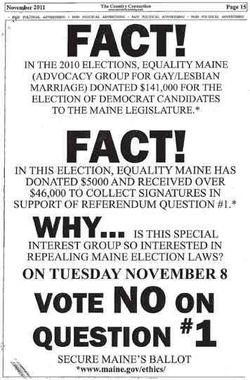 Maine Republicans singled out Equality Maine's involvement in an effort to retain Election Day registration because they thought Mainers might not support it if they knew gay people did.
The Sun-Journal reports:
GOP Chairman Charlie Webster said the ad, which was circulated by more than 25 community newspapers, was designed to "educate" the public about EqualityMaine, one of the advocacy groups involved in the coalition that wants to retain the state's 38-year-old EDR law. However, members of the coalition say the ad is designed to mobilize opponents of same-sex marriage and marks yet another example of Webster and EDR opponents' attempts to distract voters from the real issue of Question 1.
A "yes" vote on Question 1 would retain the EDR law. A "no" vote would uphold the Legislature's controversial decision last spring to eliminate EDR.
Webster said the ad isn't "gay-bashing." However, he acknowledged several Republican lawmakers had contacted him to complain about the ad and that it cast the party in negative light.
Webster says gay rights group ad designed to educate voters [sun journal]