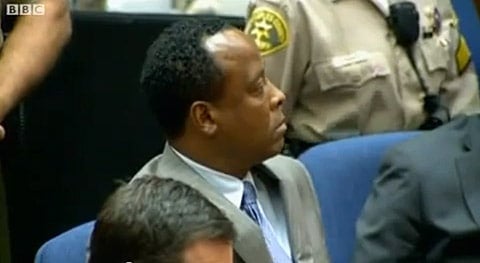 Dr. Conrad Murray was declared guilty of involuntary manslaughter in the death of Michael Jackson for injecting the King of Pop with the surgical anesthetic propofol.
The verdict against Dr. Conrad Murray comes after a jury of seven men and five women  deliberated for about nine hours over two days. The 58-year-old cardiologist, who was charged with the lowest possible homicide offense, faces a maximum sentence of four years in state prison and a minimum sentence of probation.
Murray now also faces the probable loss of his medical license. California authorities already suspended his right to practice, but medical boards in Nevada and Texas agreed to wait to evaluate licenses he holds in their states until after the criminal case.
A crowd gathered outside the courtroom erupted after the verdict was read.
Watch the verdict and fans react outside the courtroom (autoplay), AFTER THE JUMP…