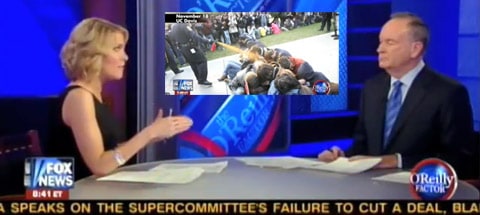 Megyn Kelly and Bill O'Reilly talk about the pepper-spraying of UC Davis students.
Says O'Reilly: "I don't think we have the right to Monday-morning quarterback the police. Particularly at a place like UC Davis, which is a fairly liberal campus."
In related news, UC Davis has placed Police Chief Annette Spicuzza on administrative leave.
"As I have gathered more information about the events that took place on our Quad on Friday, it has become clear to me that this is a necessary step toward restoring trust on our campus," (UC Davis Chancellor Linda P.B. Katehi) said in a statement.
Watch, AFTER THE JUMP…