Richard Socarides, President of Equality Matters, the LGBT division of media watchdog Media Matters, and lead staffer Kerry Eleveld, who left a position at The Advocate several months ago to join the organization, both announced their departure this morning.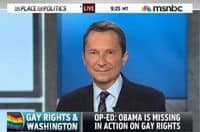 Said Socarides, in a statement:
"I am very grateful to have had the opportunity to lead Equality Matters during its first year. I've decided to return full time to New York and my law practice and activism there, at the end of the year, This has been an amazing year for our communities and LGBT rights. We have accomplished a lot this year, but have so much more to do. I look forward to being a part of it."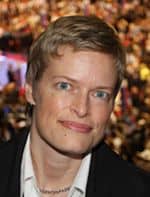 Said Eleveld:
"I'm particularly proud of the work I've done during my fellowship at Equality Matters. I am grateful that I was given the chance to focus on in-depth reporting about serious issues affecting the LGBT community — and also to publish in places like The Washington Post, The Atlantic and The Daily Beast. In the New Year, I look forward to working full time on a book about the past several years in LGBT history."
Media Matters founder David Brock said he was proud of what the organization had accomplished in its first year:
"When we launched our Equality Matters initiative at the end of 2010, we were convinced that additional and focused resources in our core expertise areas — correcting conservative misinformation plus training and communications — could be put to use to help take advantage of a potentially historic and transformative moment in gay rights. One year later, we know we were right…I am very grateful to have Richard Socarides lead this initiative in its first year. Having someone of his intellect, stature, and experience was a significant factor in our first year success. He will continue, I am sure, to have major impact in our fight for a progressive country and I will continue to rely on his advice and counsel."
The Washington Blade has a bit more on the story, saying the organization "appears defunct".
Socarides described the structure of Equality Matters today as an entity without its own core staff, whose resources come from the larger Media Matters organization. "The entire way that the organization functions, intentionally, is to be able to call on" the rest of the Media Matters organization and staff as needed, according to Socarides. "It's an organization that is fully integrated and embedded into Media Matters."