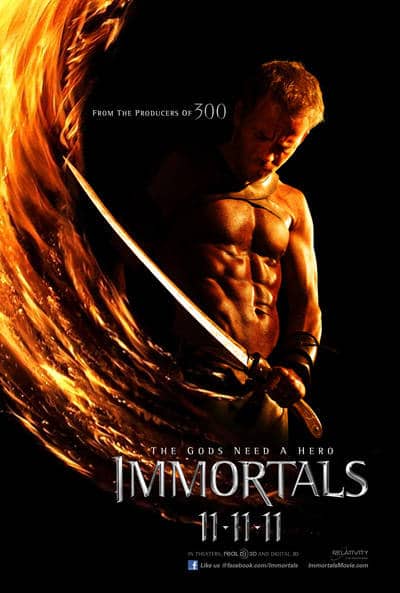 Stephen Dorff talks to NY Mag's Vulture about Immortals and the perils of playing a slave:
My lower back was really screwed up in a way it had never been before, and I felt like I'd get more out of having my own team to get my back in shape and get the right exercises. I also didn't wanna have man breasts, and there were a lot of man breasts in the cast. I felt like it looked like people had gotten chest implants. I wanted to stick with the abs look.
He said the cast, which includes Henry Cavill and Kellan Lutz, paid a price for being shirtless the entire film:
I'm not really the actor who wants to compare nipples and pec size, and Tarsem wasn't that anal. I had hair on my chest, so he wanted me to shave my chest for a cleaner look. I was like "Fine, I'm just not gonna wax my chest." There was this incredible chest acne breakout, which I wasn't interested in. So I came up with the fact that I could do it with my Braun electric razor. It was a much cleaner way of going and I didn't get any chest acne. I don't have that much hair. I'm also so dirty — I'm probably the dirtiest guy in the movie, being a slave. I'd never spent that much time in a makeup room, because normally I'm not naked in a movie so much. I have a lot of tattoos and it took a long time to get me ready. It was annoying. I had an extra hour and a half on everybody because we had to airbrush the tattoos. Then we put the grease on, but the grease takes the tattoo makeup off. Then you put on the dirt and then you can't see the abs that I've been working so hard on. It was a disaster. And usually I'm thinking about my character, not all this kind of stuff.
Check out a whole bunch of hot stills from Immortals here.