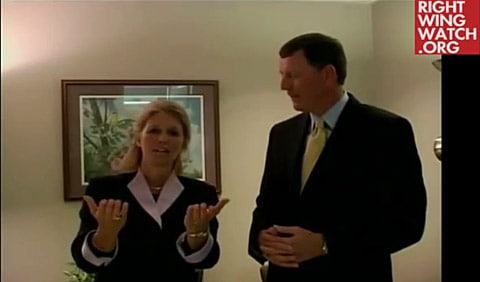 Michele Bachmann's newly appointed Iowa co-chair Tamara Scott, who is also a director for the Concerned Women of America, stood with Bob Vander Plaats last summer and warned that same-sex marriage would lead to people marrying objects, like the Eiffel Tower, Right Wing Watch reports.
Watch, AFTER THE JUMP…
In August of last year, Scott also claimed that outlawing same-sex marriage would save the economy:
"This is not simply a party issue. It's a Biblical issue. Now I expect somebody like SNL will come along and make fun. We'll see the Church Lady revived. That's okay. I'd rather have man mad at me than be a stench in the nostrils of the God almighty."
Vander Plaats, of course, heads up The Family Leader, Iowa's leading anti-gay group, which held a 'Family Forum' over the weekend for the Republican candidates.