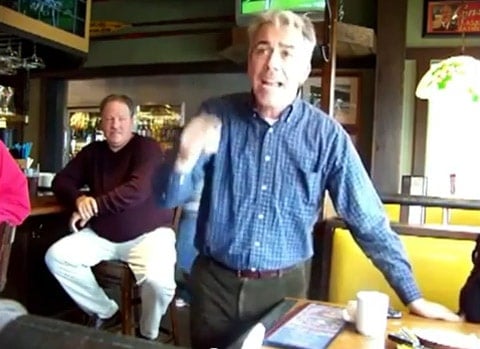 Deadbeat dad Tea Party Congressman Joe Walsh (R-IL), who was in our headlines recently for getting a 'pro-family' award (that also left Lawrence O'Donnell aghast) from the Family Research Council, also apparently has some anger management issues.
At a recent constituent town hall at Uno Restaurant in his district of Gurnee, Illinois, Walsh flipped his lid, Think Progress reports:
After several constituents accurately pointed out that bank lobbyists occupy key positions within Congress, the SEC, and other oversight bodies that are supposed to supervise bank practices, Walsh began sticking his finger close to his constituent's faces, yelling, "quiet for a minute or I'll have to ask you to leave."
Ranted Walsh: "…it's not the private marketplace that created this mess. What created mess was your government, which has demanded for years that everybody be in a home. And we've made it easy as possible for people to be in homes. […] Don't blame banks, and don't blame the marketplace for the mess we're in right now! I am tired of hearing that crap! This pisses me off! Too many people don't listen."
Watch, AFTER THE JUMP…