After a day of media headlines decrying the split of Toronto Zoo 'gay' penguin pair Buddy and Pedro, the zookeepers are speaking out about their decision to split them for breeding: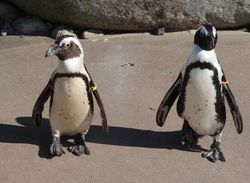 "The two girls have been following them; we just have to get the boys interested in looking at them…We have to keep an eye on the population all the time, because if we let things slide we could lose the population forever."
Approximately 60,000 African penguins live in the wild and the species is in danger.
The inseparable penguins will soon be back together, they reassure:
Pedro and Buddy's separation will only last as long as they can inseminate their respective female partners. While incubating eggs, the two may well be back "side by side." Once breeding season is up, Pedro and Buddy will "probably" ditch their female partners and reunite, said Bill Rapley, executive director for conservation, education and wildlife at the Toronto Zoo.
Previously…
Toronto Zoo Plans to Split Gay Penguin Couple, Force Them to Mate with Females: VIDEO [tr]