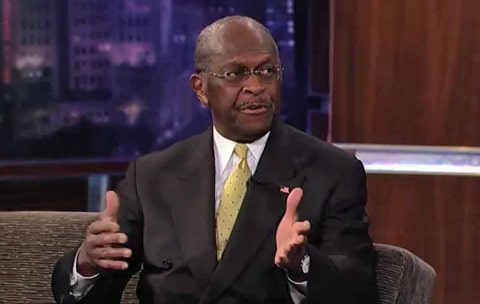 Herman Cain showed up on Jimmy Kimmel Live hours after Sharon Bialek accused the Republican presidential candidate of sexual harassment and assault.
Said Cain to Kimmel:
"All things considered, I'm still alive. We had a little surprise to show up on TV. We didn't even know this whole thing about 'Woman #4' was going to come out. This one actually had a name and a face…We are taking this head on."
Kimmel responds, later, "I don't know you, I don't know this woman, I don't know these anonymous women, but first of all, thank you for making this election a lot more interesting than talking about just the economy. To you it's a distraction, but to me it's my life."
Cain discussed why he thinks he's been running strong in the polls, why he's raised $2 million in the last two weeks, and the bizarre Mark Block 'smoking' ad.
Cain also tells Kimmel that he has never smoked pot, judges the latest pizza from Godfather's, and compares the state of the American economy to a frog in boiling water.
Watch the full interview, AFTER THE JUMP…