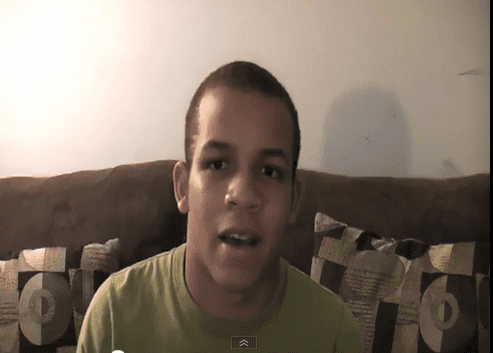 This is adorable. The above high school sophomore really, really wants Justin Bieber to go to prom with him, and last June he posted an impassioned invitation on YouTube (watch it AFTER THE JUMP). The interwebs are taking notice.
The Belieber wants to make it clear that he's just inviting Biebs as a friend. "No," he explains, "I'm not gay." Hell, Bieber's not even the kid's first choice of prom date. There is, apparently, some girl at his school that he'd rather take, but he's pretty sure she'll turn him down. Biebs, therefore, is his back-up date. "Plan Bieb," if you like.
"If Justin Bieber goes to prom with me, as a friend," he says, "that would make my prom — like, it doesn't get any better than that! We'd Dougie, jerk, Cat Daddy together. We can do the Cupid Shuffle together. The Cha-Cha Slide! You know. And maybe, if you want to, you can bring our girlfriend along too. Selena Gomez. If that would make you happy. Since, you know, you won't ever have a prom." Solid reasoning!
"So, Justin," he says. "I'm a very big fan of yours. And would you please go to prom with me? 'Cuz I'm a guy who is asking you to prom."
Three weeks ago, the Belieber's impassioned invite landed him an interview on Roadrunner Radio. It may have also earned him some mockery. He's got another vid up entitled "A Guy Bullied For Liking Justin Bieber," which is set to private. If it is what it appears to be, then — Don't listen to 'em, Belieber. Most of the guys picking on you had "U Smile" stuck in their heads too, but were too scared to admit it. Never apologize for taste.