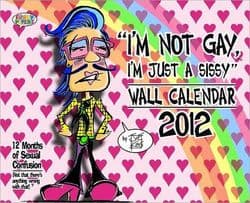 Now Amazon, too, has pulled cartoonist Joe King's 2012 calendar, I'm Not Gay, I'm Just a Sissy from its online store. Amazon is the second online retailer to do so, after Barnes & Noble pulled the item early this week in response to criticism from LGBT advocacy groups and blogs, including this one.
Mr. King has taken to Facebook to express his anger …
Hoo-we! Hell hath no fury like a he/she scorned… The telephone tree of tantrums is lit up like a Las Vegas marquee for "Boy-Lesque" today with hate mail, threats of boycott and even the risk of Jesus spitting on me for my "Sissy" calendar. I SAID I WAS A SISSY UP FRONT. Ironic who the real bullies are isn't it? Let's see if I get a call from Oprah's people or even Anderson Cooper…

… The "truth" is that AIDS is an "elective" disease. It STOPS the day guys quit sticking it to each other. And for the tragedy of women and children infected… THAT stops the day their gay husbands and fathers stop cheating on them. Anyone need MORE education, science or funding to understand THAT?"
…  but struck a milder tone when quoted in the Christian Post:
"This was just another block of work according to its subject matter," said King, who noted that many of the comics were from previous years and had not received outrage until now, in part because their context was better understood when they were first printed.

"The gays are using some online blog to muster [enough] negative comments to have my calendar pulled," wrote King on his blog "Funny Paperz."

"All the hysteria is coming from those nice folks who haven't bothered to actually purchase and read my collection."

Earlier this week the Gay & Lesbian Alliance Against Defamation (GLAAD) called for supporters to demand that Amazon and Barnes & Noble drop the calendar.
Mr. King, or someone claiming to be him, left numerous angry comments on the CP story after several of that publication's readers expressed distaste for his work.