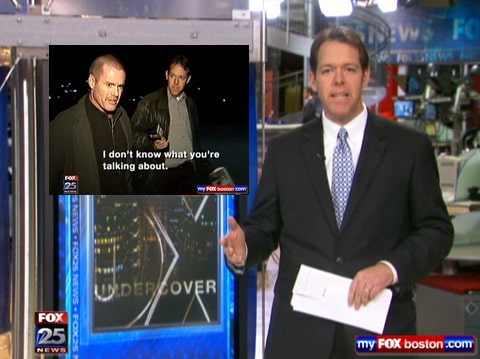 FOX 25 reporter Mike Beaudet last night defended his ambush of Boston-area school teacher Kevin Hogan for making several gay porn movies.
Meanwhile, reaction has been strong to the story with many students and parents defending Hogan, Patch reports:
A petition in support of Hogan, who joined Mystic Valley in August, is now reportedly being circulated at the school.
While a handful of parents Beaudet spoke to for his story voiced concern about a teacher having a pornographic past, an overwhelming majority of viewers believe WFXT went too far.
"I just saw your story on Kevin Hogan and found it to be in very bad taste," one viewer wrote in a letter to the station, which WFXT commentator Doug VB Goudie read on-air during today's morning newscast. "If he loses his job, someone at Fox should lose their job or better yet support him going forward. It is lazy and sloppy and has negative consequences for him–it should for you as well."
Goudie estimated that viewer feedback has been split 80/20, with 80% of viewers "against us."
Watch Beaudet talk about his report, AFTER THE JUMP…
Mass. teacher who starred in porn movies center of debate: MyFoxBOSTON.com