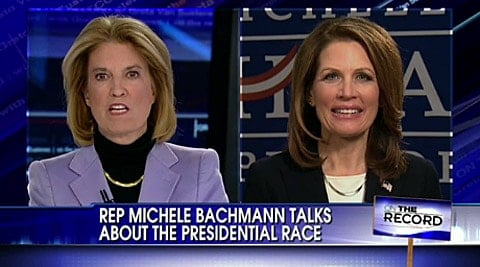 Michele Bachmann says she "can't wait to shred Obama's radical agenda to pieces" in a debate and talked to Greta van Susteren about who she would pick as running mates:
…among them real estate mogul-turned-reality TV star and perennial possible presidential contender Donald Trump. She also mentioned fellow presidential candidate Rick Santorum, Florida Sen. Marco Rubio, and conservative South Carolina Sen. Jim DeMint as possible picks for her cabinet or VP slots.
"I think that Rick Santorum is a wonderful man personally, but also, I think that he's very gifted when it comes to the area of legal issues," Bachmann told Van Susteren. "And I think I could see him as an attorney general. I think he'd do a great job. I haven't talked to Rick about that, but I think he'd be wonderful, or another cabinet position." I think that he'd also be on my short list of people that I would consider for my VP.
Watch, AFTER THE JUMP…