On Tuesday, Belgium will swear in the Euroipean Union's first openly gay Prime Minister, French-speaking socialist Elio Di Rupo: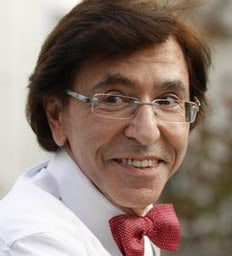 Di Rupo, the first Francophone premier in 32 years for the divided nation, will take office as a new Socialist leader among a group of European governments dominated by the center-right.
Di Rupo was due to meet King Albert II Monday evening to give him the names of Belgium's new cabinet ministers, according to people familiar with the matter. According to local press reports, the cabinet will comprise 13 members including Di Rupo. Longstanding finance minister Didier Reynders will be moving to foreign affairs and Steven Vanackere, from the centrist Flemish liberal party, moving to finance.
"My first words are for the citizens" Di Rupo said last week, as he set out the new government's plans, including public sector cuts and new taxes, last week. "I want to thank them for their patience … together, we need to roll up our sleeves and get this country out of crisis."
A BBC profile on Di Rupo describes his public coming out:
Mr Di Rupo, a homosexual, found his own love life suddenly under scrutiny in 1996 when he was falsely accused of having had sex with under-age males. According to Van de Woestyne, Mr Di Rupo admits that he might have killed himself had he not been totally vindicated in the affair.
Speaking to the author of Elio Di Rupo, A Life, A Vision (French: Elio Di Rupo. Une vie, une vision), he recalled being pursued down the street by a media pack and how one journalist had exclaimed "Yet they say you're a homosexual!"
"I turned around and shot back: 'Yes. So what?' I will never forget that moment… For several seconds there was silence… People were so surprised by my reply they stopped jostling each other. It was a sincere, truthful reply."
His career did not appear to suffer. Three years later, Mr Di Rupo was leader of the Socialist Party and, shortly afterwards, became regional prime minister of Wallonia.
Di Rupo is not the world's first out gay leader. In February 2009, Johanna Sigurdardottir, an out lesbian, became the Prime Minister of Iceland.