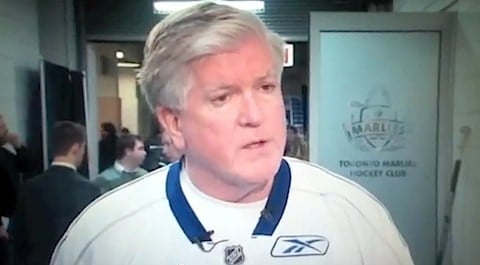 I talked about this speech in the news round-up earlier this month but the clip is now available on YouTube. It's an interview with Toronto Maple Leafs general manager Brian Burke, who as you may recall lost his gay son last year in a tragic car accident after a very public coming out in ESPN in 2009.
Since that time, Mr. Burke (above) has dedicated himself to LGBT advocacy.
This is a recent message of support and allegiance to the LGBT Communities, appearing with the Toronto Gay Hockey Association, and the Toronto Marlies. The Toronto Marlies played a game against the Albany Devils on December 10th, donating $4.00 for every ticket sale bought through the TGHA towards the Kids Help Phone, an anti-bullying organization.
Watch a hero, AFTER THE JUMP…