Rick Perry's anti-gay ad that began airing yesterday divided his top staff, including his chief pollster Tony Fabrizio, Sam Stein reports: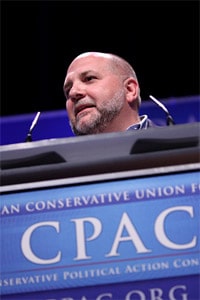 When the ad was being crafted several weeks ago, Perry's top pollster, Tony Fabrizio, called it "nuts," according to an email sent from Fabrizio to the ad's main creator, longtime GOP operative Nelson Warfield. In a separate email to The Huffington Post, Warfield confirmed that the ad was made over Fabrizio's objections.
"Tony was against it from the get-go," Warfield wrote. "It was the source of some extended conversation in the campaign. To be very clear: That spot was mine from writing the poll question to test[ing] it to drafting the script to overseeing production."
Meanwhile, Fabrizio's caving on the ad has enraged conservative gay group GOProud's Jimmy LaSalvia and Chris Barron, who sent out tweets late yesterday.
Said LaSalvia: "I've just about had it with faggots who line their pockets with checks from anti-gay homophobes while throwing the rest of us under the bus." He later clarified, "I was talking about Rick Perry's pollster/strategist."
Barron tweeted to a follower: "Rick Perry's pollster & strategist is a gay guy. Totally disgusting."
Stein spoke to LaSalvia for his piece on the ad:
"It is the height of hypocrisy for Tony Fabrizio to have been a part of that," said Jimmy LaSalvia, co-founder and executive director of GOProud. "He has lined his pockets for years with money from the gay community to conduct polls to ostensibly help gay people in this country, and for him to be a part of this is the height of Washington hypocrisy. It is absolutely what is wrong with Washington. It is all about the payday for these people."
If Fabrizio found the ad repugnant and it aired over his objections, LaSalvia argued, he should have quit in protest. "Perry said in the ad that the service of tens of thousands of patriotic gay Americans is what's wrong in this country," LaSalvia said. "That is an outrageous and un-American statement."
Reached by email, Fabrizio confirmed that he was uncomfortable with the ad. But he said he was going to follow the advice he has given to candidates throughout his career: "If you start answering personal attacks, you are just rewarding the attacker."
Stein adds: "Fabrizio has done polling for the Log Cabin Republicans in addition to urging lawmakers to reconsider their approach to the culture wars and embrace basic fairness for gay Americans on the issue of marriage. He was considered an ally by pro-gay rights conservatives."
I have no idea if Fabrizio was out already. Pam Spaulding also notes:
"I have no idea if Fabrizio's a homo, but it wouldn't surprise me at all if he's another one of those Beltway creatures that's socially out, perhaps even professionally out to many, but wants to play coy in order to maximize the cash flow from homophobes like Perry."
More at Back2Stonewall and Pam's House Blend.