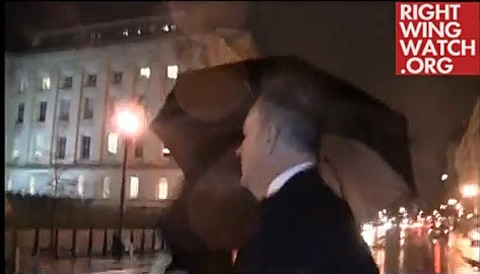 FOX News host Bill O'Reilly, known for camera ambushes of his own, was confronted by Wisconsin community organizer Branden Lane after walking out of a hotel where Newt Gingrich was holding a fundraiser last night, Ring Wing Watch reports:
O'Reilly ignores him and then, with no prompting, strikes Lane with his umbrella. He then says, "Hey, sorry about that." O'Reilly, with Lane following at a distance, then walks with his now-broken umbrella over to a Capitol police officer. Incredibly, you can hear O'Reilly say that he wants to press charges against the man he just struck.
O'Reilly was reportedly staying at the hotel.
Watch, AFTER THE JUMP…