Journalist and activist Paul Varnell has died, as Brandon mentioned in his round-up.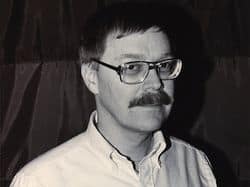 The Windy City Times writes that Varnell died from pneumonia and a stroke, and posts a lengthy article on his accomplishments and personality:
Varnell held nontraditional jobs and began his activism in full force in Chicago. He was a board member of Parents and Friends of Gays in Chicago from 1983 to 1984; chaired the Media Committee of the Illinois Gay and Lesbian Task Force from 1983 to 1990 ( for part of that time he was also IGLTF's research director ) ; was a member of the Chicago AIDS Task Force from 1982 to 1990; was a co-founder of CARGO, the Chicago Area Gay Republican Organization, in 1984; and helped to promote the Gay History Month founding in 1994 ( some sources list him as co-founder, but he was not a founder of the event, though he was very supportive of the efforts ) .
Writes journalist Rex Wockner:
"He and I, as a journalistic exercise, tried to get a marriage license in Cook County — in 1989! And when rebuffed, we filed human-rights complaints with the city and the state. We lost. We claimed sex discrimination but they told us it was sexual-orientation discrimination and that that wasn't illegal at that time in Illinois. The Sun-Times made a big story of our little effort. We turned down an invite to appear on Oprah. 😐 I suppose everyone is unique, but Paul was unlike anyone I've ever known. I think it was the degree of his independence and the degree of his self-sufficiency that stood out. He had very specific ideas about how he wanted to live his life — and that is exactly how he lived it, each day and without compromise."
(photo rex wockner)