Last week I wrote that GOP Senators were working to block confirmation of Mari Carmen Aponte, Obama's pick for Ambassador to El Salvador, who has been serving since Obama made her a recess appointee in September 2010, partly by using a June editorial she wrote supporting Gay Pride as reasons for objecting.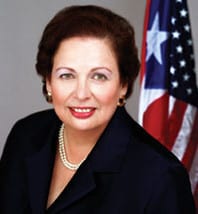 They succeeded:
Senate Republicans successfully filibustered on Monday the confirmation of an ambassadorial nominee, citing a pro-LGBT editorial she wrote as one reason to vote against her. The cloture vote to advance the nomination of Mari Carmen Aponte for the position of U.S. ambassador to El Salvador failed by 49-37 on a mostly party-line basis.
Said Sen. Jim DeMint of Aponte's editorial in which she argued against homophobia and violence against LGBT people:
"In her recess-appointed capacity as ambassador to El Salvador, Ms. Aponte has inflamed tensions in the very country where she should be improving diplomatic relations. Her decision to publish an opinion piece hostile to the culture of El Salvadorans presents even more doubts about her fitness for the job. This op-ed upset a large number of community and pro-life groups in El Salvador who were insulted by Ms. Aponte's rhetoric."
Wrote Aponte in the piece, called, For the Elimination of Prejudices Wherever They Exist:
"No one should be subjected to aggression because of who he is or who he loves. Homophobia and brutal hostility are often based on lack of understanding about what it truly means to be gay or transgender. To avoid negative perceptions, we must work together with education and support for those facing those who promote hatred."