Australian Finance Minister Penny Wong, who was once under fire from the LGBT community for opposing same-sex marriage, but came out in support of it in November 2010, has had a child with her partner Sophie Allouache via in-vitro fertilization, ABC News reports: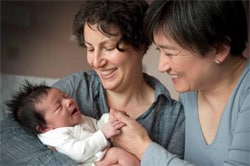 Senator Wong has said the biological father is a friend who will be known to the baby, but his name is not expected to be made public.
"We are extremely grateful to our IVF service and staff, and to our donor, for giving us the opportunity to raise a child together," Senator Wong said.
The senator, who drove a hard-fought change to the ALP's platform on gay marriage earlier this month, is now expected to take some time off after Prime Minister Julia Gillard sent her congratulations. "The PM's given me a bit of leave so I'm going to take time off and hopefully we can get the important things in life, like feeding and nappy changing and sleeping, under control," Senator Wong said.
Watch a news report on the baby announcement from last August, AFTER THE JUMP…