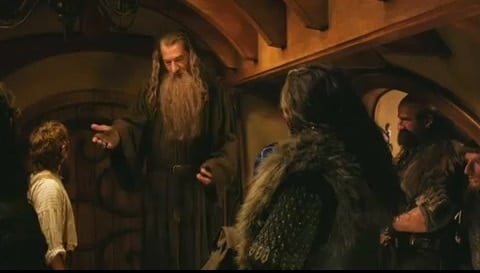 The beard budget on this adaptation of JRR Tolkien's 'Lord of the Rings' prequel, 'The Hobbit: An Unexpected Adventure', had to be out of control.
MTV sums up the clip:
The trailer opens with an elderly Bilbo (Ian Holm) explaining to Frodo (Elijah Wood) that he might not have shared all there was to know about his adventures, followed by a quick cut to young Bilbo (Martin Freeman) being recruited to come on a new journey with Gandalf the Grey (Ian McKellen). It then introduces a slew of Dwarves and Thorin Oakenshield (Richard Armitage), who begin an eerie foreshadowing chant that provides backing for quick clips of this new fellowship on their journey. After that, it shows brief glimpses of Cate Blanchett reprising her role as ethereal Galadriel and a shadowy appearance of Andy Serkis as Gollum muttering about his "precious."
Check it out, AFTER THE JUMP…