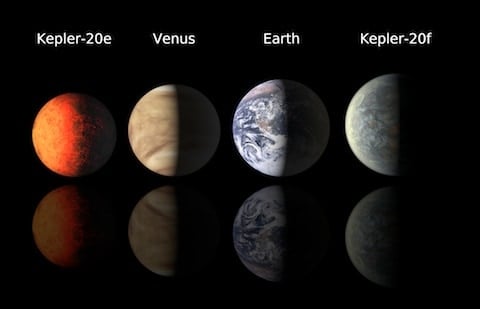 Probably too hot for life as we would recognize it, but exciting nonetheless:
NASA's Kepler mission discovered the first Earth-size planets around a star beyond our own. The system is jam-packed with five planets, all circling within a distance roughly equivalent to Mercury's orbit in our solar system.
The two Earth-size planets, which are presumably rocky, are Kepler-20e and Kepler-20f, and the three larger gas planets are Kepler-20b, Kepler-20c and Kepler-20d. The arrangement of the planets from the closest to its star to the farthest is: b, e, c, f and d, with the ordering of the letters reflecting the time at which the planets were initially discovered.
Watch an animation on the discovery, AFTER THE JUMP…