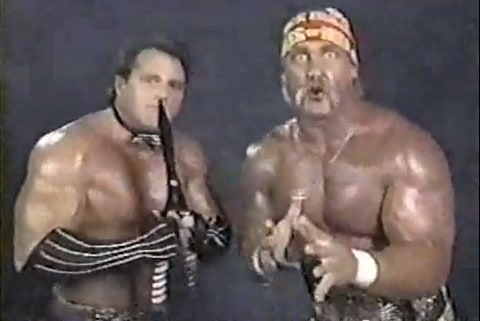 Hulk Hogan has filed a defamation lawsuit against his ex-wife Linda Bollea over various claims, including one that he cheated on her with fellow wrestler Brutus Beefcake, Us Weekly reports:
The wrestling icon, 58, (real name: Terry Bollea) filed an 18-page lawsuit in Clearwater, Fla. on Thursday accusing his ex, 52, of defamation, the St. Petersburg Times reports.
In her memoir Wrestling the Hulk: My Life Against the Ropes, Linda writes of harrowing physical, mental and emotional abuse at the hands of her husband during their 24-year marriage…
During radio interviews promoting the tome, Linda also accused her former spouse of cheating on her with another male wrestler, Brutus Beefcake.
Linda's claims, Hulk's lawsuit says, have "exposed him to distrust, hatred, contempt and ridicule."
"After the four-year crazy divorce I thought I'd heard everything I could hear in the courtroom. Then, all of a sudden she says I abused her, that I was violent. She told everybody that I was a homosexual…If any of that was true, I would admit it, and (if) I was a homosexual I would embrace it. It's just so crazy to hear, so I have a real problem with it… If you're going to say I'm something that I'm not to try to ruin my career and my livelihood… I have to answer her back. It's so ridiculous. I don't mean to laugh about it, because it's not funny. But it's insane. It doesn't make any sense to me."
Watch a promo featuring Hulk Hogan and Brutus, AFTER THE JUMP…