Jamiel Terry, the out gay adopted son of anti-abortion activist Randall Terry, has been killed in a car accident: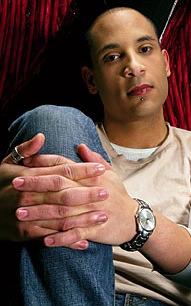 On November 30, at 7:00 A.M., Jamiel Terry, age 31, was killed in a head on collision in Lilburn, Georgia. Gwinnett police spokesman Jake Smith said that the three passengers in the other vehicle were hospitalized with injuries that were not life threatening. The cause of the crash has not yet been determined.
Jamiel Terry was the adopted son of Operation Rescue Founder, Randall Terry, who is currently in the Democratic Primary for President for 2012.
Back in 2004 (in one of probably my earliest 'news' updates for this site), I posted about Randall Terry's selfish plea for sympathy when Jamiel came out in OUT magazine, in a WorldNetDaily editorial:
I am still in a state of shock; I have been grieving for days. My son, Jamiel Terry, was paid $5,000 by Out magazine (to appear April 20, 2004, on newsstands) to write a story about being Randall Terry's homosexual son. I pray my following words help other grieving parents and serve as a warning to moms and dads of small children to be unflinchingly and unashamedly diligent to protect their children from predators, and bring a reality check to those exploiting my son….
…For the uninformed, Out magazine specializes in bringing homosexuals "out of the closet." Out is committed to the homosexual agenda – homosexual marriage, special "civil rights" for homosexuals, promoting the fallacy that their sexual activities are normal and even laudable. Their agenda is shameless. My son was offered $5,000 to "write" a story about me and his life with me and my family. However, much of the story was written by Out's editor who put words in my son's mouth to accomplish the magazine's agenda.
Read his full editorial here.
Says Terry of his son's death:
"While we remained irreconcilable on the issue of 'homosexual marriage,' Jamiel remained firmly pro-life, and recently helped convince a young woman to not kill her child by abortion. There were many other issues that we kicked around — with laughter and good humor.
"We had recently agreed to hold joint speaking events at colleges and other venues, to discuss and debate the issues that are dear to us as a 'father and son' lecture team. I wish to God we had been able to do even one of them.
"We beg you for your prayers for our family, and beg you to pray for the mercy of God, and the eternal rest of Jamiel's soul. He will be sorely missed. We still cannot believe this is happening. God have mercy; Christ have mercy."
Jeremy Hooper at Good as You notes: "Life is too short for 'culture war.'"
RIP Jamiel Terry.