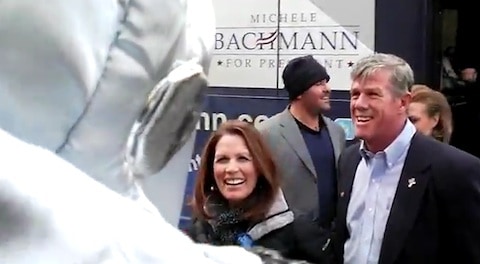 Michele Bachmann was confronted by a 'gay robot' outside the Hamburg Inn restaurant in Iowa City yesterday. The 'gay robot' was a man who reportedly heckled Bill Clinton at the University of Iowa in 2007.
"Not only are you a homophobe, you are a robophobe," the man dressed as a robot told Bachmann as she entered the venue.
After following her in, the robot continued, to boos from the crowd: "Michele Bachmann I will not rest until you support equal rights for human and robot gay people."
"I was programmed to do this. I cannot help myself," the robot continued.
"Go back in the closet," yelled a Bachmann supporter.
After being escorted out, a police officer told the robot he would face additional charges if he tried coming back in.
Watch three videos, AFTER THE JUMP…