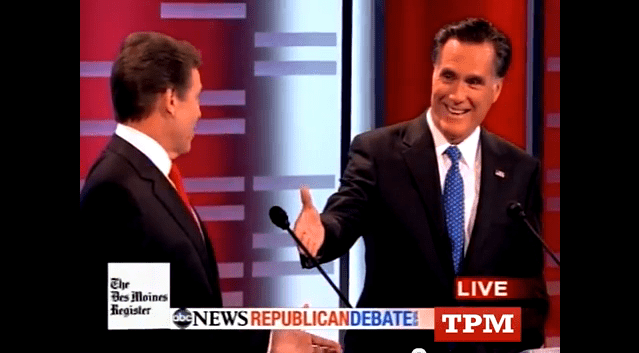 At ABC's Republican debate in Des Moines, Mitt Romney reminded everyone that he's really, really rich. Watch him offer Rick Perry a $10,000 bet AFTER THE JUMP …

Rick Santorum: "Science should get out of politics."

On Wednesday, a new shelter for homeless LGBT youth will open in Philly:
The Night Resource Program, which will operate out of the Arch Street Presbyterian Church, 1724 Arch St., was made possible through a $5,000 grant by the Henrietta Tower Wurts Fund and a $5,000 grant from the Student-Run Emergency Housing Unit of Philadelphia — as well as $2,500 in fundraising.

Participants will be guaranteed a 30-day stay with the possibility of an extension depending on space availability and the individual's progress.

Dinner and breakfast will be served daily, and individuals will have access to on-site case managers, who are MSW students at Temple University, as well as a therapist. Additionally, participants will be connected with daytime services through the Youth Health Empowerment Project.

This high school's girls' basketball team had a pre-game chant that went like this: "One, two, three, [N-word]!" It caused some problems.

Why is high school senior Angela Zhang cooler than we'll ever be?
17 year old high school senior Angela Zhang just earned a $100,000 scholarship at the Siemens Competition in Math, Science & Technology for designing a nanoparticle which targets cancer stem cells. It's somewhat similar to this, but rather than attacking messenger RNA it instead delivers a dose of the drug salinomycin directly to the tumor cells. In addition, the nanoparticle is gold and iron-oxide based, so it can also be used to detect cancer with noninvasive means such as MRI and Photoacoustic imaging. A particle that delivers targeted doses of meds directly to affected cells, lessens side effects, helps prevent cancer resistance, and doubles as an MRI contrast solution to diagnose/monitor progress? Holy crap, that's awesome.

Why did Kansas University buy the domain name "KUgirls.xxx"?
How will a Minnesota school district wonders talk about LGBT issues in the classroom?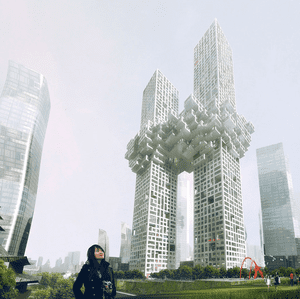 There's something not right about these buildings.
Louis C.K. talks some more about Tracey Morgan's homophobic comedy routine:
"I think the opportunity that was lost was for the gay community to ask Tracy, 'why did you say that' and 'what was your dad like' and 'what is being a man mean to you,' you know what I mean? It could have been a starting point of a conversation that might have actually made a difference in how people feel about homophobia."

In Hawaii, a lesbian couple sue for the right to marry:
Natasha N. Jackson, and Janin Kleid filed a lawsuit in U.S. District Court Wednesday, claiming that their rights to due process and equal protection as guaranteed in the 14th Amendment to the U.S. Constitution were violated. The defendants named are Gov. Neil Abercrombie and Loretta J. Fuddy, director of the state health department.

Barack Obama is all things to all people. Pro-smog yet pro-environment; pro-choice yet anti-morning-after pill …
Without a Democratic challenger who might tug him to the left, Obama is free to try to neutralize Republican efforts to tar him as a liberal ideologue by taking steps toward the political center.

At the same time, he is finding opportunities to boost his standing with his most committed backers. For example, he has appealed to environmentalists by delaying an oil pipeline that would run from Canada to Texas, and to gay rights activists by bolstering gay rights overseas and helping end a ban on gays in the military.

French rightists fight radical Islam by giving themselves gout.

Half the people in America have now parodied Rick Perry's anti-gay television ad. Gay Republican presidential candidate Fred Karger is one of them.