Thrice-married adulterer Newt Gingrich has written to The Family Leader, Iowa's leading anti-gay group, in support of its Marriage Vow, which Bachmann, Perry, and Santorum have already signed.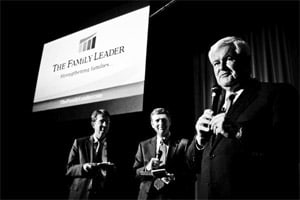 Gingrich's response to the group comes in the form of a promise to "strengthen and defend" family by defending the unborn, religious liberty, the right of the people to rule themselves, and defend against debt.
He also says he'll defend marriage:
"As President, I will vigorously enforce the Defense of Marriage Act, which was enacted under my leadership as Speaker of the House, and ensure compliance with its provisions, especially in the military. I will also aggressively defend the constitutionality of DOMA in federal and state courts. I will support sending a federal constitutional amendment defining marriage as the union of one man and one woman to the states for ratification. I will also oppose any judicial, bureaucratic, or legislative effort to define marriage in any manner other than as between one man and one woman. I will support all efforts to reform promptly any uneconomic or anti-marriage aspects of welfare and tax policy. I also pledge to uphold the institution of marriage through personal fidelity to my spouse and respect for the marital bonds of others."
Bob Vander Plaats is pleased with Newt's promises. The group has yet to endorse a candidate.
(via think progress lgbt)