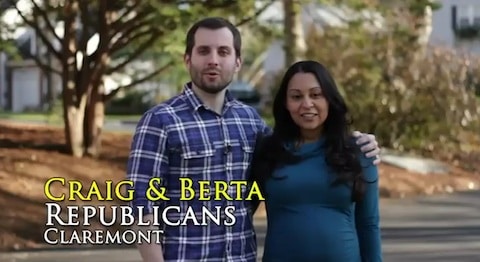 Standing Up for New Hampshire Families has released a new bipartisan ad in the Granite State calling on lawmakers to reject a bill that would repeal marriage equality in the state:
Among those featured in the ad are Craig Stowell and his wife Berta. Craig, a former Marine who served in Iraq, is a life-long Claremont resident and conservative Republican who co-chairs Standing Up for NH Families.
"We know the people of NH support individual rights," said Stowell. "And polls show voters strongly oppose repealing the current marriage law, across every demographic and geographic measure. This effort to repeal or undermine the freedom to marry in New Hampshire does not represent our core New Hampshire values. We hope our ad reminds lawmakers that they need to listen to the people."
Also appearing in the spot are Maxine Morse of Portsmouth, a longtime Republican activist and Dan Calegari of Manchester, a Democrat and former small business owner. The ad was produced by the Manchester-based Merrimack and Potomac Group.
Check out the ad, AFTER THE JUMP…
(via good as you)