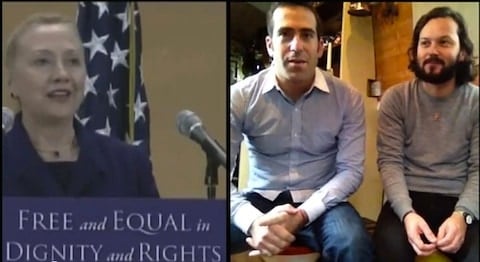 Jesse, an American citizen from New York, and Max, his partner of more than 10 years who is a citizen of Argentina, are currently living in exile in London due to Jesse's inability to sponsor Max for a green card because of the discriminatory Defense of Marriage Act (DOMA). Jesse, a born-and-bred New Yorker, has been forced to live thousands of miles from his parents and sister year after year, missing every holiday and family celebration.
Jesse and Max are in a new holiday campaign from several LGBT organizations highlighting the inequality faced by binational LGBT couples. They write, in a press release:
In an effort to bring national attention to the horrifying choice between love and country forced upon these binational gay and lesbian couples, LGBT organizations including GetEQUAL, Stop the Deportations, and Out4Immigration are calling on Secretary of Homeland Security Janet Napolitano to immediately reunite these couples with their families in the United States. The Obama administration could easily bring these couples home for the holidays by simply granting temporary "humanitarian parole" to the foreign spouses or partners of U.S. citizens, allowing them to enter the United States with that temporary status until a permanent solution can be achieved.
Watch, AFTER THE JUMP…