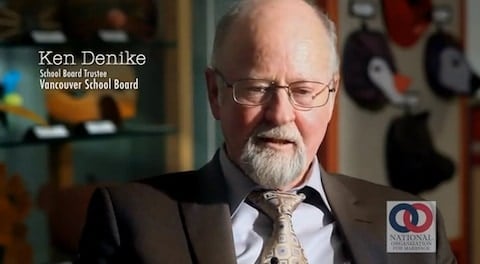 Two Vancouver school board members are under fire for appearing in NOM videos decrying the school district's Out in Schools anti-bullying program over a 2006 booklet, since corrected, which led readers to an explicit Men's Health website. The board members say their participation in the NOM video was misrepresented to them, CTV reports:
The head of Vancouver's School Board and a city councillor claim two other school board trustees used the U.S. group National Organization for Marriage to attack the board's anti-homophobia policies. Board chair Patti Bacchus and Councillor Tim Stevenson say they want an apology after two disturbing videos recently surfaced, raising questions about the conduct of trustees Ken Denike and Sophia Woo.
Denike agrees he spoke out about the booklet because parents should be concerned, but said he was misled about the interview and had no idea it would be featured on the group's website.
"I was surprised to see it show up there, where it's basically an advertisement which seems to be promoting people to send in money to anti-marriage between two adult males, females, whatever, which is legal in Canada."
Denike claims he didn't know how NOM planned to use his video interview and is in the process of lawyering up.
Denike tells Xtra that the video's creator told them it was for a news program when it was filmed. He says he was surprised when the video turned up on the anti-gay-marriage site. He says he has contacted a lawyer to have it removed.
"It's inappropriate," Denike says. "It has nothing to do with same-sex marriage. It was strictly in order to indicate to the board that they were responsible for oversight."
The video is part of NOM's Marriage Anti-Defamation Alliance.
Watch, AFTER THE JUMP…