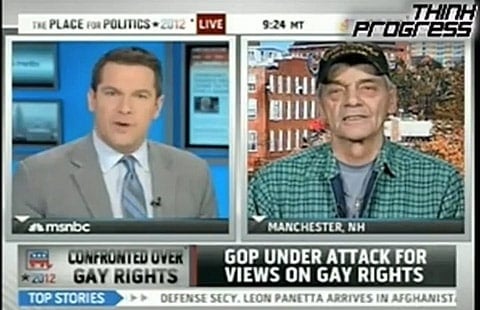 Thomas Roberts spoke with Bob Garon, the gay Vietnam vet who confronted Mitt Romney yesterday in New Hampshire over same-sex marriage and military benefits, Think Progress LGBT reports.
Garon says he was "frustrated" by Romney: "What I didn't expect from Mr. Romney is how confrontational he was and argumentative. I wasn't there for a debate with him, I just wanted him to answer the question and my question was really hoping that if he gets into the White House that he would be in support of the benefits entitled to veterans and their spouses."
Garon puts an important face on the discrimination faced by gay military veterans and married couples affected by DOMA:
"I probably won't see [benefits extended to gay and lesbian couples] in my lifetime and my partner probably won't see it in his lifetime. However, I do believe the country will eventually recognize same-sex marriage on the federal level so that at least we can have our Constitutional rights. I mean, if my husband was a female, she would be entitled to all the benefits and currently he is not. And I don't see why. Why on earth is he not entitled to the same benefits that if my partner was a female? It just makes no sense to me."
Watch, AFTER THE JUMP…