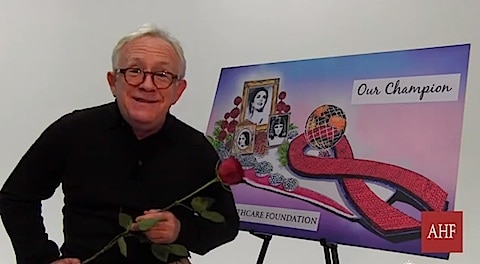 The AIDS Healthcare Foundation today announced that this year its entry in the 123rd Tournament of Roses Parade in Pasadena on January 2 has been approved by officials and will be the first-ever float to focus on HIV/AIDS.
Check out Leslie Jordan's announcement about the float, which is intended to remind the world that the fight against HIV/AIDS is not over, AFTER THE JUMP…
The float, entitled 'Our Champion', honors Elizabeth Taylor and her advocacy on behalf of people with HIV/AIDS.
AHF is allowing the public to participate by remembering and honoring a loved one lost to AIDS. By texting FLOWER to 20222 along with the name of the person you are remembering, a name will be printed on a water vial holding one of the more than 150,000 roses on the float for a $5 donation.
According to the organization, "The float will take the form of an oversized red ribbon, the international symbol of AIDS, with a circling world globe. There will be photographs of Taylor from various stages in her life and career: from 'National Velvet,' her breakthrough film as a child; from the film, 'Cleopatra;' and an iconic photo from her later years when she was devoting much of her life to advocacy on AIDS. The photos will be largely be rendered in black and white, using seeds and grains to capture the effects of a black and white photo. At least one of the photos will have spot color, also rendered in seeds, grains and flowers: for her world famous eyes, and to color a small red AIDS ribbon pinned to her blouse."
Check out Leslie Jordan's announcement about the float, which is intended to remind the world that the fight against HIV/AIDS is not over, AFTER THE JUMP…