So what happens when a middle school student decides to "out" himself to classmates, and the school hears and sees negative comments which could expose the student to bullying, and the gay student isn't out to his parents?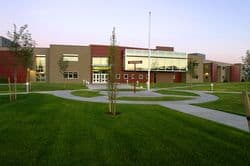 That's the situation Willowcreek Middle School in Lehi, Utah found itself in, the Daily Herald reports:
District officials have done interviews with media across the country questioning whether the assistant principal overstepped her bounds.
The controversy began with a series of incidents on Dec. 5 and 6, according to district spokeswoman Rhonda Bromley. A 14-year-old boy at Willowcreek Middle School in Lehi was showing affection with another male student during school. The boy also attended a class where each student was assigned to create an advertisement about him or herself. The ad he created was about his homosexual orientation. All the ads were being hung on the classroom wall, and the teacher asked the boy if he wanted his to be hung with the rest. The boy said yes. When a student "gave a negative response" in the hallway about the boy's sexual orientation, an adult aide alerted school administrators about potential bullying, Bromley said.
Because of that concern about bullying, on Dec. 7 the assistant principal called the student into her office. The boy told her that his parents did not know about his sexual orientation. The administrator felt the parents needed to be aware of the potential bullying and safety concerns, and called the parents into her office. At the student's request, the boy was not present when his parents were told about what had happened at school.
Now, a Facebook page (if someone can find it please post a link to it in the comments) has been created accusing the school of homophobic discrimination and suspending the student for being gay.
Say Bromley: "That is not true. His parents choose to keep him at home."
Watch a report on the controversy from Utah's KSL, AFTER THE JUMP…