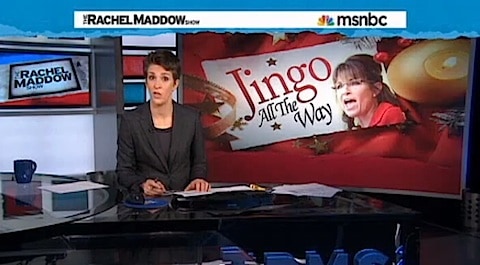 FOX News and Sarah Palin are outraged that the Obama's Christmas card features a dog (!) and a poinsettia (!) and fails to mention 'Christmas' in the message inside what Maddow calls "the evil, dog-themed Christmas card" (which you can see below).
Former Alaska Governor Sarah Palin told Fox News & Commentary that she found the card to be a bit unusual.
"It's odd," she said, wondering why the president's Christmas card highlights his dog instead of traditions like "family, faith and freedom."
"Even stranger than that was his first year in office when the Christmas ornaments included Chairman Mao," Palin said. "People had to ask that it be removed because it was offensive."…
…Palin said the majority of Americans can appreciate the more traditional, "American foundational values illustrated and displayed on Christmas cards and on a Christmas tree."
As for the Obama card, she replied, "It's just a different way of thinking coming out of the White House."
Watch Maddow's segment, AFTER THE JUMP…
On a side note, I love hearing Rachel scream, "How dare they?"