Attorney Stephen Pidgeon, an opponent of LGBT rights and same-sex marriage, has filed an initiative against Washington state's proposed marriage equality bill so that the measure will go before voters if lawmakers approve it, the Seattle Times reports: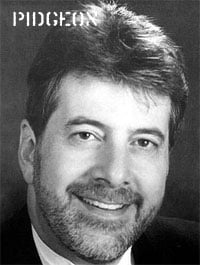 The proposed initiative, not yet numbered, would reaffirm the state's Defense of Marriage Act, which defines marriage as between "a male" and "a female." The initiative seeks to slightly tweak the statute's language, changing it to "one man" and "one woman."
Democrats behind the marriage equality bill say they do not want Governor Christine Gregoire to include an emergency clause in the bill which would make it effective immediately, thwarting any such initiative.
Said Sen. Ed Murray, D-Seattle: "We want to allow citizens, should the measure pass, to collect signatures for a referendum…Our hope is to pass a bill here (in Washington) without a referendum."
The paper adds that in order to qualify for the November ballot, Pidgeon's backers would need to collect signatures from 241,153 registered voters by early July.
If you missed Governor Chris Gregoire's speech last week introducing the marriage equality legislation, you must not miss it. Check it out HERE.