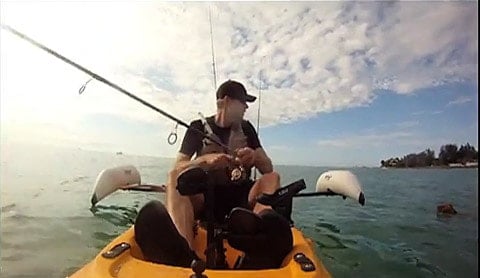 A kayaker off the coast of Sarasota came upon a dog on Saturday that had been badly injured and was swimming far out at sea, and posted the video of his rescue to YouTube. He pulled the terrified dog. a Viszla, aboard his craft and attempted to look for its owner.
After failing to find the owner, he brought it to the vet. The dog had an ID chip implanted, and returned 'Barney' to his owner. Turns out the dog had very good reason to be terrified.
He later updated his YouTube page with the sad reality of what had happened:
A 53-year-old Sarasota woman was hit and killed by a drunk driver, according to Florida Highway Patrol troopers. It happened Saturday afternoon when troopers say Blake C. Talman, 22, was fleeing from another crash scene. Talman reportedly lost control of his Nissan Altima on State Road 758 north of Glebe Lane when troopers say he struck Donna L. Chen as she was walking her dog on a sidewalk.
According to authorities, the dog was also hit, and it ran away from the scene.
Watch the kayaker's film of the dog rescue, AFTER THE JUMP…