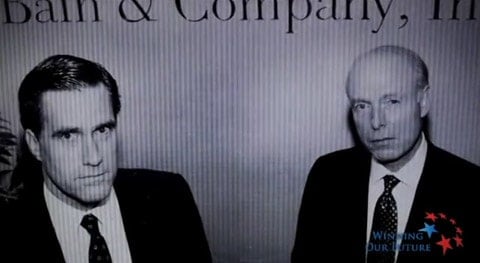 Winning Our Future: When Mitt Romney Came to Town, a new film produced by a SuperPAC that supports Newt Gingrich, uses Occupy Wall Street-style rhetoric to demonize Romney, NY Mag reports:
The documentary's subjects are the very people who worked at companies that private-equity firm Bain Capital bought — and according to the documentary, pillaged — during Romney's tenure there. The companies include UniMac, a manufacturer of laundry equipment that was based in Florida; KB Toys, and Ampad, a office supply manufacturer.
The interviewees appear broken and sad. They connect Romney to Bain and Bain to the death of their jobs, gutted companies, ruined families, lost homes, skipped meals, and Christmases without presents. And then those interviewees connect all of that back to Mitt Romney, which is what the filmmakers set out to convey.
The film's description: "Capitalism made America great – free markets, innovation, hard work – the building blocks of the American Dream. But in the wrong hands some of those dreams can turn into nightmares. This film is about one raider and his firm and how they destroyed that dream for thousands of Americans and their families – Mitt Romney and Bain Capital."
DailyKos notes: The attacks, the language, the framing—the very core—of this hit job sound like things you'd expect from a lefty operation."
Except it's not. It's Gingrich.
Check out the trailer for the film, AFTER THE JUMP…