Commonwealth Scientific and Industrial Research Organisation (CSIRO), Australia's national science agency, has named a horsefly after Beyoncé: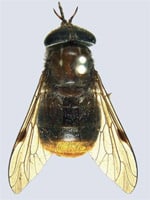 The Scaptia (Plinthina) beyonceae fly, which is found in far north Queensland, sports a spectacular gold patch on its abdomen which CSIRO insect expert Bryan Lessard says makes it the "all-time diva of flies".
"It was the unique dense golden hairs on the fly's abdomen that led me to name this fly in honour of the performer Beyonce as well as giving me the chance to demonstrate the fun side of taxonomy – the naming of species," Mr Lessard said in a statement released on the CSIRO blog.
The rare Scaptia plinthina horse fly was collected in 1981 from the Atherton Tablelands, west of Cairns, the year the former Destiny's Child singer was born.