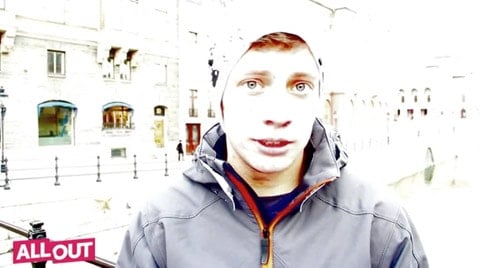 The Swedish Government mandates forced sterilization of any trangender person who wants to legally change his or her gender.
Love Georg Elfvelin, a 21 year old store manager in Sweden, explains, in a new video:
"I'm trans. That means I am born in a female body but my heart says I'm a man. I'm speaking out today because the Swedish government is forcing thousands of people like me to make an impossible choice. If I need to change the gender of my identity cards to reflect my true self, just a small change from an 'F' to an 'M', my country forces me to be sterilized."
Watch, AFTER THE JUMP…
Activist group AllOut adds, in a release:
If you are a transgender person in Sweden wanting to change your legal gender, you are forced to undergo surgery that will render you permanently infertile and unable to have children in the future. That's right: in 2012, Swedish law still mandates forced sterilization in order to do something as simple as changing the gender on your driver's license.
Despite a massive push to repeal the law, including support from 90% of Swedish MPs, Prime Minister Fredrik Reinfeldt has stayed silent on the issue: allowing one small conservative party to block the change.
Right now a reform of the law is being debated in Sweden. We need a massive show of support across Sweden and Europe that finally convinces PM Reinfeldt to speak out and break the deadlock.
AllOut encourages you to sign the petition HERE.