Maryland governor Martin O'Malley is having breakfast with LGBT advocates tomorrow morning, after he introduces a marriage equality bill tonight, The Baltimore Sun reports: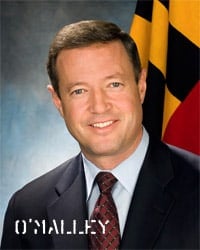 The governor is expected to introduce his same-sex marriage bill this evening. He told reporters that the legislation will clarify exemptions for religious organizations that don't want to participate or honor same-sex unions.
"If there's a difference [this year] it will probably be in regard to the respect for religious freedom and making that a little clearer in this bill," O'Malley said. He declined to elaborate.
O'Malley (D) is scheduled to host a breakfast gathering of same-sex couples at Government House and then tout his legislation at a news conference afterward. Aides say O'Malley will be joined outside his residence by supportive legislators, clergy and labor leaders. Word of his plans spread as O'Malley prepared the formal release Monday night of his legislative agenda for the 90-day session that began this month.
…In the Senate, a hearing scheduled on Jan. 31 for all bills relating to same-sex marriage in the Senate Judicial Proceedings Committee. Testimony will be limited to two hours on each side.
In the House, the bill will be jointly referred to the Judiciary and the Health and Government Affairs panels.
Out Maryland Delegate Heather Mizeur recently posted a video of her speech to the floor last year.
Check it out, AFTER THE JUMP…