Nebraska State Senator Beau McCoy (pictured) has introduced legislation that would prohibit local municipalities across the state from enacting their own anti-discrimination ordinances. The proposed legislation conflicts with plans by an Omaha City Councilman to protect LGBT people from discrimination in that city, the World-Herald reports: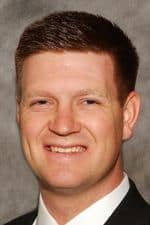 City Councilman Ben Gray says he plans to place a measure to ban discrimination against homosexual and transgender people on the council's agenda — as early as the end of the month or by late February.
But an Omaha state senator wants to bar cities and local governments from unilaterally creating such protected classes. Instead, the bill would grant such authority solely to the state.
The conflicting proposals are likely to reignite debate about more than a municipality's rights. The conversation will center on sexual orientation, the rights of private enterprise, religion and civil rights.
Blogger Aksarbent points out that the legislation proposed by McCoy is similar to that passed last year in Tennessee, which voided an LGBT anti-discrimination ordinance in Nashville.
McCoy has masked his homophobia in a claim he wants consistency in state law: "It just merely says that if we're going to change the protected classes … we need to come to the Capitol to do it so that it's consistent across the state. If it's the right thing to do, it ought to be the right thing to do border-to-border, not just in one city or municipality."