Tim Elfrink at the Miami New Times breaks down Romney's tax returns, and notes the motherlode received from the Romneys by the LDS Church: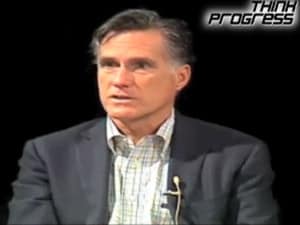 The Mormons get as much as the feds: Since 2010, the Romneys gave away $7 million to charity, with the vast majority — $4.1 million — going to the Church of Jesus Christ of Latter Day Saints. The IRS, meanwhile, got just $3 million last year from Mittens.
Romney pays crazy low taxes for a rich guy: If you've got a couple mil in the bank, you might want to hire Romney's accountants. The guy pays a tax rate of about 15.4 percent, CBS reports, which is equivalent to the average Joe's rate. But it's a fraction of what other millionaires pay, leaving tax advocates like Warren Buffett fuming this morning.
Think Progress adds: "CNN reported that the Romneys' Tyler Charitable Foundation also gave to the anti-gay Massachusetts Family Institute over a period of several years. The group opposes same-sex marriage in the state and warns parents about literature that promotes so-called 'pro-homosexual books' to school children."
Watch, AFTER THE JUMP…
Michelangelo Signorile adds: "…for moderates it's a reminder that Romney is a strong adherent — morally and financially — to a church that is on a moral crusade against women's right to choose and, most prominently in recent years, against gay rights. The Mormon Church was the focus of protests across the country after Proposition 8 passed in California, banning marriage for gays and lesbians. Church leaders had urged members to give money to the cause, and some estimates put that amount at over $20 million. The church itself gave over $180,000 to help pass Prop 8. The church was fined by the California Fair Political Practices Commission for not reporting its numerous financial contributions to the cause."