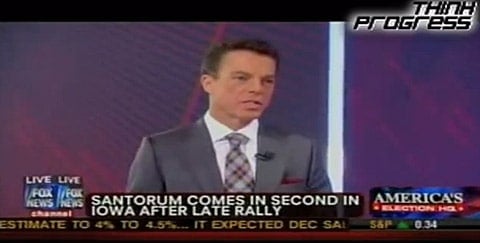 Rick Santorum must take the lion's share of the blame for the fact that Dan Savage's 2003 fecal matter prank, a response to Santorum's statements comparing gay sex to "man-on-dog" sex, still sits  near the top of Google's search results for his last name, a Search Engine expert tells the NYT: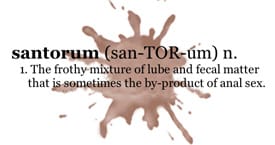 Danny Sullivan, the editor of SearchEngineLand, said the blame for the results rests largely with the Web strategy of Mr. Santorum's campaign. It is the campaign's responsibility to make its Web site more relevant than the prank term — after all, he says, the prank is relevant to voters who disagree with Mr. Santorum's views on gay rights.
"He hasn't maintained any type of official 'residence,' if you will, for himself online," Mr. Sullivan wrote in an e-mail. "So he can't build up links to the right place, which in turn would help him rise, and here he is doing it again. He's effectively redirected all the 'calls' to his official number and pointed them to some call center, in Internet terms."
Today on FOX News, anchor Shepard Smith made reference to Santorum's 2003 statement, saying "I don't think all social conservatives" share Santorum's position on 'man-on-dog sex' and homosexuality.
In related news, a video blogger noted that Mitt Romney campaign ads were appearing at the top of the Santorum prank page.
Watch both clips, AFTER THE JUMP…