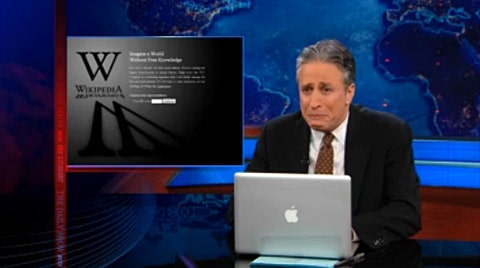 Last night, Jon Stewart was forced to turn to the news after Wikipedia went dark, to explain the dangers of the Stop Online Piracy Act, or SOPA.
Watch, AFTER THE JUMP…
The Atlantic reported that it's likely the SOPA/PIPA threat should pass, although lawmakers will continue with similar bills as "the urge to reign in the Internet's free wheel remains." Support for PIPA appears to be collapsing.
However, House Judiciary Committee Chairman Lamar Smith (R-Texas) released a statement yesterday that he expects the Committee to continue its markup of the Stop Online Piracy Act in February.
"To enact legislation that protects consumers, businesses and jobs from foreign thieves who steal America's intellectual property, we will continue to bring together industry representatives and Members to find ways to combat online piracy.
"Due to the Republican and Democratic retreats taking place over the next two weeks, markup of the Stop Online Piracy Act is expected to resume in February.
"I am committed to continuing to work with my colleagues in the House and Senate to send a bipartisan bill to the White House that saves American jobs and protects intellectual property."
Google said 4.5 million people signed its anti-SOPA petition yesterday.
Watch Stewart's, per usual, entertaining take on the legislation, AFTER THE JUMP…