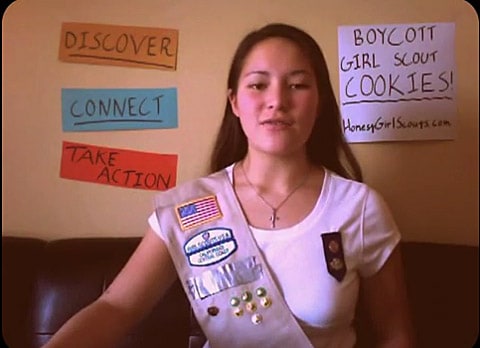 A 14-year-old Girl Scout named Taylor is calling for a boycott of Girl Scout Cookies because the organization welcomes transgender children, World Net Daily reports.
Says Taylor, in a YouTube video: "The real question is, why is GSUSA willing to break their own safety rules and go against its own research institute findings to accommodate transgender boys? Unfortunately, I think it is because GSUSA cares more about promoting the desires of a small handful of people than it does for my safety and the safety of my friends and sister Girl Scouts, and they are doing it with money we earned for them from Girl Scout cookies."
The Girl Scouts of America's inclusive policy made headlines last fall when a Colorado troop refused (and later reversed) admittance to Bobby Montoya, a transgender 7-year-old.
Watch Taylor's YouTube call for a boycott, AFTER THE JUMP…