Attorney General Eric Holder sent a letter to congressional leaders today telling them that the Department of Justice would no longer defend laws that prevent gay couples from receiving military and veterans benefits given to their heterosexual counterparts, Talking Points Memo reports: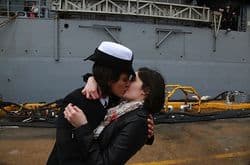 "The legislative record of these provisions contains no rationale for providing veterans' benefits to opposite-sex couples of veterans but not to legally married same-sex spouses of veterans," Holder wrote. "Neither the Department of Defense nor the Department of Veterans Affairs identified any justifications for that distinction that would warrant treating these provisions differently from Section 3 of DOMA."
Holder said DOJ would no longer defend the provisions in Title 38 which prevent same-sex couples who are legally married from obtaining benefits. He said that Congress would be provided a "full and fair opportunity" to defend the statues in the McLaughlin v. Panetta case if they wished to do so.
Read the full letter HERE.
Chris Geidner at MetroWeekly adds: "The move by Attorney General Eric Holder comes in the context of the Servicemembers Legal Defense Network's lawsuit in McLaughlin v. Panetta. Metro Weekly reported on Thursday, Feb. 16, that the parties to the case had agreed a day earlier to a 60-day delay in the government's deadline for filing a response to the lawsuit."
Servicemembers Legal Defense Network Executive Director Aubrey Sarvis released a statement in response to Holder's letter:
"We are pleased that the Attorney General has decided not to defend the constitutionality of DOMA in the military context, just as he has declined to defend it in other contexts.  We are also delighted that, for the first time, he has said that separate definitions that apply to military veterans are also unconstitutional.  This is an important step for the McLaughlin plaintiffs."
Chris Johnson at the Blade has some info on how this might affect other lawsuits:
Holder's decision is likely to have a bearing on another lawsuit challenging Title 38 and DOMA,  Cooper Harris v. United States. The lawsuit was filed by the Southern Poverty Law Center earlier this month on behalf of Tracey Cooper-Harris, an Iraq and Afghanistan veteran who's seeking disability benefits for her spouse.
Christine Sun, SPLC's deputy legal director, said she believes the Holder letter applies to her organization's lawsuit in addition to the SLDN litigation.
"There's absolutely no reason why it wouldn't apply to our case," Sun said. "I believe that it was sent in connection to the McLaughlin case because there was the recent stipulation between SLDN and DOJ to extend the deadline for the government to respond to SLDN's summary judgment case, but we're certainly interpreting the letter to say that the Department of Justice won't be defending Title 38 in our case either."