Politico reports on a new Gallup poll: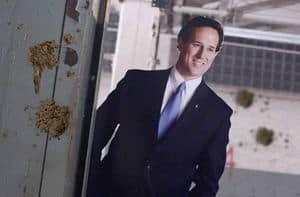 In Gallup's daily tracking rolling average, taken Feb. 15-19, Santorum leads Romney 36 percent to 26 percent, Santorum's largest lead ever. Meanwhile, fellow candidates Newt Gingrich and Ron Paul remain well behind in the national tracking poll of registered Republican voters at 13 percent and 11 percent, respectively.
Last week, Santorum had risen to within 2 points of Romney, with 30 percent to the former Massachusetts governor's 32 percent. However, in a USA Today/Gallup poll conducted Feb. 16-19, Romney remained ahead among both Democrats and Republicans as the one seen as most electable in November.