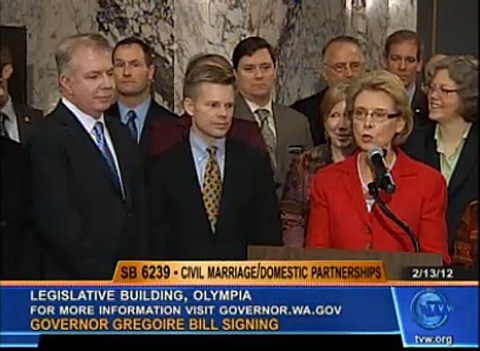 Here's video of today's inspiring ceremony at which Governor Chris Gregoire signed Washington's marriage equality bill into law. Gregoire's remarks are a must-watch. Also speaking, out gay Rep. Jamie Pedersen and state Senator Ed Murray.
Check it out, AFTER THE JUMP…
The state reception room at the Capitol was packed with gay rights supporters and at least 40 lawmakers from the House and Senate Sen. Ed Murray, a Seattle Democrat who is gay and has sponsored gay rights legislation for years, told the cheering crowd: "My friends, welcome to the other side of the rainbow. No matter what the future holds, nothing will take this moment away from us."
As the Democratic governor signed the legislation, a man shouted, "Do not betray Christ!" However, his voice was overwhelmed by gay-marriage supporters who cheered and spoke loudly during his outburst.
Bob Struble, 68, of Bremerton, was removed from the room and said he was given a warning by security. Struble said he believes the state will halt gay marriage in a public vote. "We'll be doing everything we can to overturn this unfortunate law," he said
Opponents are planning to file for a referendum that would put the measure before voters and, in the meantime, stop it from going into effect.